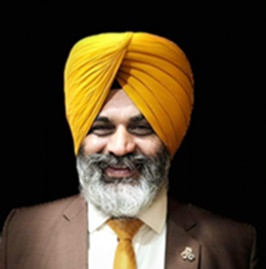 Mr. Ranjeet Singh
With great pleasure, I welcome you to our school website.
As Principal I commit you that the school and the staff are working towards an excellent all-round education for our students in this school with all types of facilities provided by Our Hon'ble Chairman Sant Baba Dlawar Singh Ji Brhamji and as well as to achieve the objective of holistic development of children desired by our Founder Chairman Sant Baba Malkit Singh Ji. Under dynamic leadership of worthy chairman, we as a team working together, we strongly promote academic achievement among our students. The cultural, sporting, academic other successes of all of our students and staff are also proudly celebrated together.
We the whole team working as an innovative school to enhance the talents and skills of staff, students and parents to provide a well-articulated platform to face the 21st century challenges. The co-curricular activities are clubbed with curriculum related activities to ensure Wholesome participation of all students.
The school has improved infrastructure in a short period of time in such a manner that this rural area will enjoy all the modern amenities to make learning interesting in Six acres pollution free campus,ventilated Building, Smart Class Rooms, safe transportation and hostel facilities.
With a long and rewarding history of achievement in education behind us, our school community continues to move forward together with confidence, pride and enthusiasm.
The legacy of Excellence will be carried in future too.
I hope you enjoy your visit to the website. please feel free to contact us.
Yours in Education,
RANJEET SINGH
Principal